Tiny Flowers, Tiny Bees
Submitted by

David Trammel

on Tue, 07/24/2018 - 19:53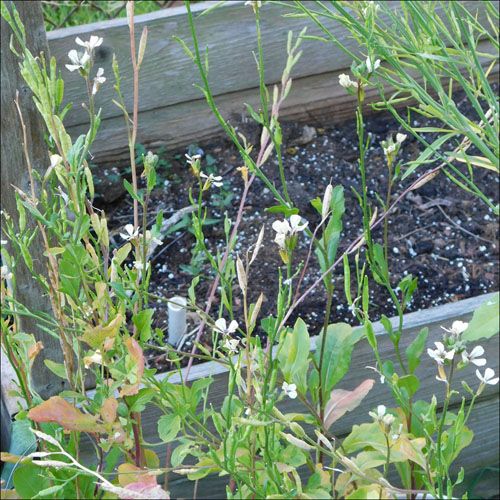 Its almost August and many of my plants are starting to flower, in preparation to seed. The early ones were my Spring greens, my lettuce, kale and spinach. Once the heat kicked in they bolted, growing tall and losing leaves for flowers.
These are some of my Kale plants, which have a gorgeous little white flower.
Now that I am on first shift, I get to relax in my garden in the late afternoon. Its a lot hotter than when I was on third shift and able to relax in the early morning. The shift to a new work time has also made me neglect my garden. I have one raised bed filled with weeds, I never got plants into it.
I was going to pull up the planters with the greens, and try an experiment with carrots in containers. I've been seed starting carrots in the front room for the past month (with mixed results).
Last week, on Thursday, due to a work emergency, I ended up staying over to do an 18 hour shift. Leaving work at midnight, there was no way I was coming back in at work, at 6am, so they gave me Friday off.
After sleeping off my exhaustion, it was Saturday morning before I rose. I made a fresh pot of coffee, and went out to relax in the garden.
Much to my surprise, those tiny flowers had many tiny bees visiting them.
Now this year, I ditched the mix of flower in hanging baskets, to just by Purslane and Portulaca. They are hearty succulents, that do well in heat and are forgiving if you go a few days long with the water. These plants have a large. open flower that honey bees and the big ones, like bumbles and carpenters, love.
I think that we have all been misled by the typical honey bee, to expect that most of this species is large and visible. As I sat there and watch the tiny bees, some no bigger than a grain of rice, flit from flower to flower, I decided that carrots could wait. Or at least find a different container.
We can't only be focused on our wants, our needs.
Green Wizardry and an understanding of systems theory as taught here, means you must sometimes consider allowing a resource to go fallow, and not use it for your own gain, when it benefits another part of the whole system. Those tiny bees are a vital resource. Who am I to deny them their place in my garden?