2021 Update on My New Garden - First Steps
Submitted by

David Trammel

on Sat, 07/10/2021 - 21:29
Ok its been a while and I need to do an update on my plans and construction at the new place. I'm going to do one for the backyard and its garden, and a second on the in home additions.
Background: I'm moving in with my sister this year. She owns a house in St Louis, and I'm going in with her as I retire. Its a small two bedroom house built in the 50s, but on a decent size yard.
Ok here is the new layout for the garden.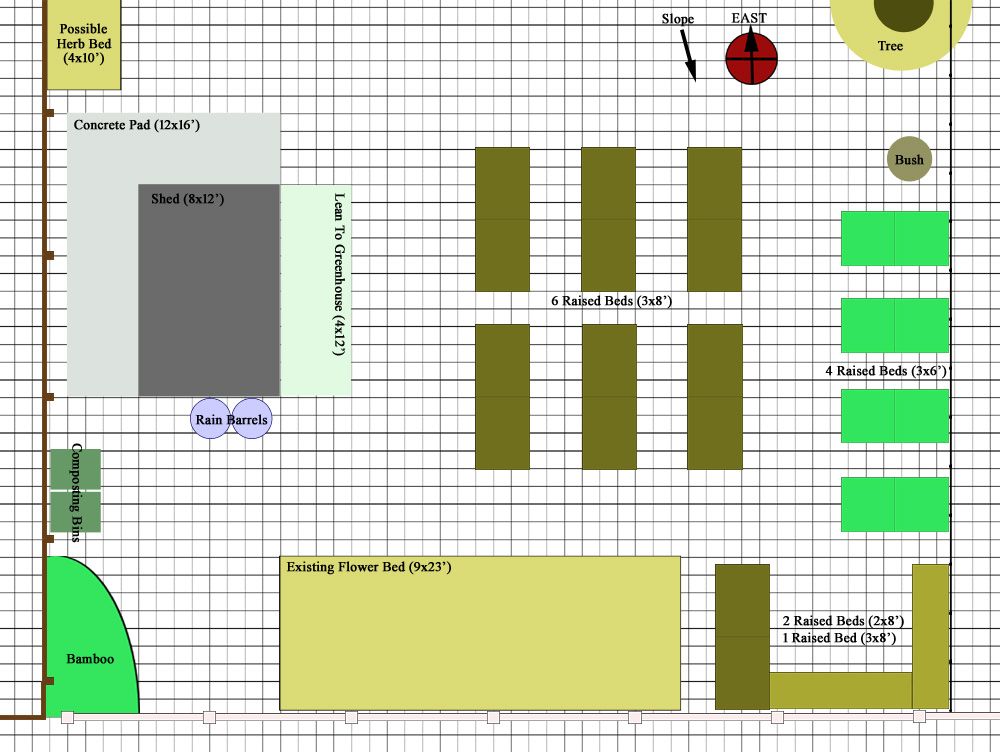 I've discovered that I don't have the amount of full sunlight I thought I had. While earlier experiments said I had full sun across the entire area, in full Summer its now just the Southern half of the available space. The center and Northern side get dappled sun at best.
This won't affect the planned green house I want to put in, nor the shed or other stuff on that side. Early Spring still sees decent sunlight before the leaves come into the trees. I can also plant early crops like my salad greens in the four beds 3x8' beds in the center, and once they have gotten established, they should be fine with the lesser sunlight levels. Of course we'll see in the first year, won't we?
I did have to delay the actual build on the shed until next Spring due to cash flow. And I've moved it placement towards the house more than originally planned to give me some storage and work space behind it near the bamboo. I could dig the bamboo up, but it would be a major undertaking. There a ton more of it beyond the fence in the two neighbor's yards. I have it contained in a bed, with a stainless steel fence dug in to 12" deep, which minimizes the off shoots into the yard. As it is, I like the look of the bamboo there, and it provides shelter for small animals and pollinators
Here is the actual area, with the first 4 beds installed.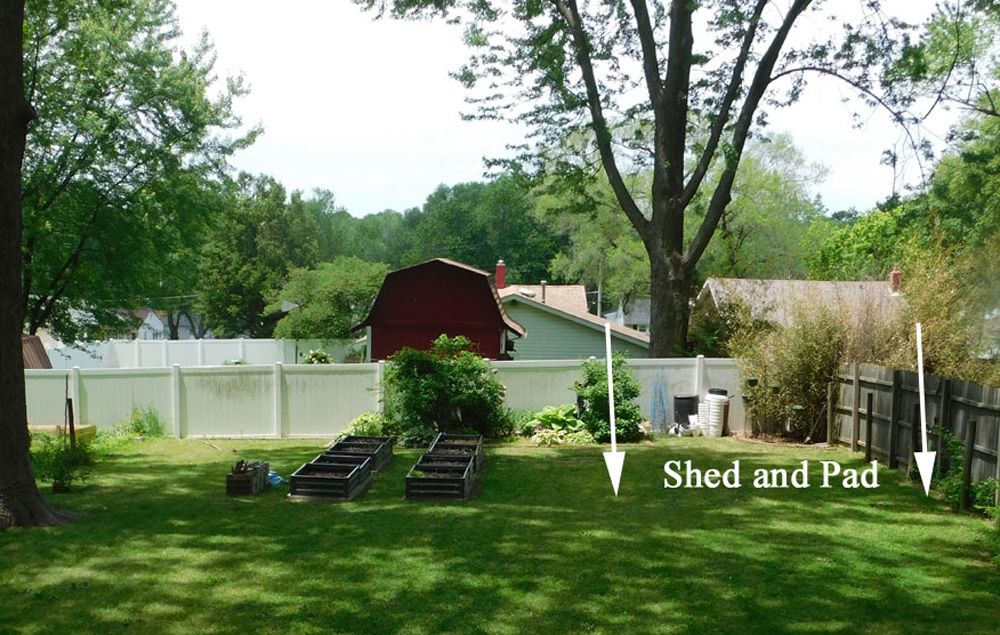 About those beds.
I had originally planned on using wood for the raised beds but I had major worries that a decade from now, I would need to replace them. Not only would this be an expense in my retirement but at 64, in a decade I just might not have the physical strength to do the major work of emptying the beds of soil and replacing the wood.
As it happened, in a trip to a local big box hardware store I came across some galvanized steel raised beds. Price was reasonable at about $50 for a 3x4" bed, with a 16" height. Having garden beds that I didn't have to get on my hands and knees to weed and work in is also a priority.
Now even though the beds are galvanized and powder coated, they will still rust eventually. Missouri soil is heavy with clay, and it retains moisture. Good for plants, bad for metal or wooden beds. Even cedar degrades rather quickly. With a supply of concrete bricks from my current rental property and the raised beds there, I decided to put concrete bricks into the ground, use them to level the place for the raised beds (I'm on a slight slope), then install the metal beds on top of the brick.
I put a layer of hardware cloth down between the two, to prevent pests from tunneling into the beds. The beds are doubled up to make 3x8' units, and attached to steel spikes hammered into the ground (the two things sticking up from the concrete bricks in the top photo).
The metal beds were popular and after I bought 12 of them, I couldn't get them locally anymore. I did come across some 3x3' raised beds from the same supplier but made a mistake, the new ones were just 10" tall, not 16". I compensated with a second layer of concrete brick. These are going in pairs along the property line to give me four 3x6' beds.
I'm probably going to relocate the bush in the left of the picture. Not sure what it is.
That's one issue, my sister is an ornamental flower junkie. She has many beds around the yard, both front and back. Mostly this is because she has a lot of shade from the trees, and couldn't get grass to grow there. Still they look nice and provide food for bees. I am going to try and move her into more plants look pretty and can be eaten.
Along with the 4 beds on the fence, I'm putting a horse shoe arrangement of three 8' long beds in the corner of the yard. Two of them will be only 2' wide. Anything beyond that is hard to reach across to weed. The bed up against the white fence though, sees a decrease in sunlight once the Sun moves past into the West.
FILLING ALL THAT NEW SPACE-
I am not planting anything this year. I got started too late to do it, and it takes a lot of effort to put the concrete bricks in the ground. At best I can put 3-4 in a day, depending on weather. Most of my time is focused on the inside build so that I can get moved in. The longer I rent, the more money I spend that I don't need to. This has allowed me to be creative in how I fill the raised beds.
I'm using a modified hügelkultur to pack them with organic material. As each bed gets finished I go around the neighborhood and pick up yard waste bags with sticks and leaves. I do grab some grass clippings for fill, but I'm concerned about yards which have been sprayed with herbicide. I fill the beds with the heavy stuff first, the sticks and limbs, then layer in the leaves and grass clippings. I add in any dirt I have excess of from putting the concrete bricks in too. The bed in the picture also had some wood debris from three stumps I had shredded last month.
I'm going to allow it to compost for the next few months, turning it over each week and keeping it moist. I'm seeing some huge earthworms recently, so the local fauna appreciates the food.
This material should compost down to about a one half depth by the late Fall. At that time, I plan on putting in the concrete pad for the shed. I'll move the excavated soil from that space, and put it into the various raised beds. Some minor premium compost and fertilizer additions and I should have a great start for the 2022 planting season.
WHAT TO PLANT-
At the moment its Youtube videos and garden articles around the Internet to get an idea what kind of plants I want to start with. I'm also discussing with my sister what kinds of veggies she likes.
I've tentatively decided on these for the first year:
Corn
Tomatoes
Onions
Carrots
Peppers
Broccoli (though it may be an Asian variety)
Various Leafy Greens like Lettuce, Spinach, Kale etc. As well as some hot weather greens like Malabar Spinach.
I also want to establish an Asparagus bed, but haven't decided where yet. The other plants I can move depending on how they do at various sunlight levels but once the asparagus goes in, that the permanent place for it.
I'm considering Potatoes and perhaps some exotic Asian stuff. A lot will depend on what further research on their nutrition and sunlight needs are. And what seeds I have in my library.
I'm also putting in an area for containers and some larger concrete bricks on the side of the raised beds for perennial herbs.
---
That's the current situation. More to follow I'm sure.