Thoughts & Suggestions for a Fall/Winter Garden
Submitted by

David Trammel

on Thu, 08/17/2017 - 12:12
Its that time of year to consider what to plant for the Fall and over into the Winter.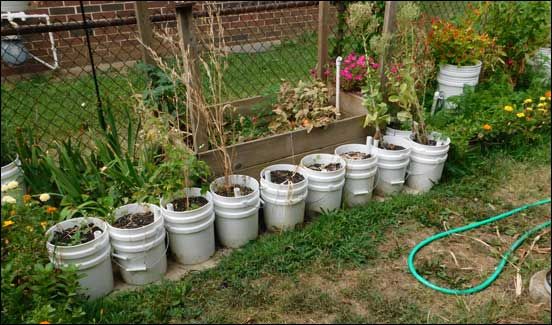 These pots are just unhappy, wanting to be filled with Life.
I have seed pods still from this garden of Arugala, Romaine Lettuce, Black Seeded Lettuce and Broad Leaf Spinach that I think I'm going to plant. I've also go a big envelope of seeds from this thread
http://teresamcguffey.com/greenwizards.org/?q=node/35118
As well as a baggie of Malibar or New Zealand Spinach from someone here (thank you but I can't find the message where we talked, lol! Senior moment!!!)
I might replant a couple of containers with onion seeds, but I have a couple of plants in the ground I'm not digging up and going to allow to over Winter and then seed in the Spring.
That brings up the point that I am not just talking just plants in the ground. I also have an option of doing containers and bringing them inside to live under the grow lamps.
What suggestions would everyone like to see me try?